Waste reduction and recycling education campaign
East Waste's education campaign 'Why waste it?' has been developed to support our member councils to achieve SA Government Waste Strategy targets in waste reduction.
The central question of Why waste it? focuses the campaign on waste avoidance and increasing resource recovery. This is encouraged through the waste hierarchy principals of; Avoid, Reduce, Re-use, Recycle and Compost by highlighting these as alternative options to 'wasting it'.
CLICK HERE to download a campaign presentation (June 2017)
Educational resources have been developed in accordance to these principals and are free for the community and schools to download on the whichbin.com.au website. CLICK HERE to access the free educational resources.
Council specific resources are also available for East Waste's member councils via a council log-in.
Resources include:
Searchable A-Z item list
Bus shelter / Adshel signage
Collection Calendars
Flyers
Kerbside Bin stickers
Kitchen Caddy/Bio-basket stickers
Solar Bin signage
Newsletter and Messenger articles
Posters
Pull-up/ Stand-up Banners
Social media and website banner ads
Street Banners
No Junk Mail sticker
If you are not currently a member council and are interested in our resources, please contact megan@eastwaste.com
The central feature of the whichbin.com.au website is the comprehensive A-Z directory listing over 400 common household items. The A-Z guide lists items in alphabetical order and also has a search function allowing users to easily find information on what items go in 'which bin' by the colour of the corresponding bin lid. A number of alternative options are listed for various items where there is more than one way to recycle or dispose of the item. Additional information is provided on the Recycling Tips page.
New Fleet Vehicle signage

New fleet vehicle signage with the message 'Why waste it? Let's sort it.' aims to encourage the community to question their 'waste' and explore 'sorting it' through illustrated alternatives of avoid, reduce, re-use, recycle and compost.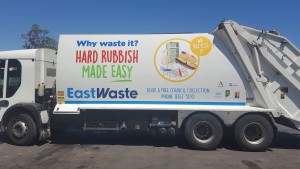 New truck signage has also been developed to promote the 'at call' hard waste booking service that has now been adopted by all member councils.
Bus Shelter Campaign
An Adshel campaign with a 'Thank you for Recycling it' message was posted up in twenty prominent bus shelter sites from March 6-19. The recycling focused message was also promoted through street banners, corflute signs, posters, newsletter articles, community information displays and online media. Following this, a composting/green organics campaign message with 'Thank you for Composting it' was posted in bus shelters from 12 June – 9 July and was also be supported by other promotional media.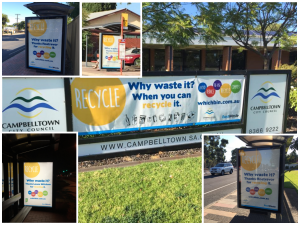 Tell us what you think about the new campaign for your chance to WIN a worm farm or compost bin via our short survey. Also let us know how you avoid, reduce, re-use, recycle and compost at home, school or the workplace for your chance to win.
Why waste it? Information and Education Events
A number of Free information sessions and tours will be run within our member council areas. If you are interested in attending a free information session or tour please email megan@eastwaste.com.au