E-WASTE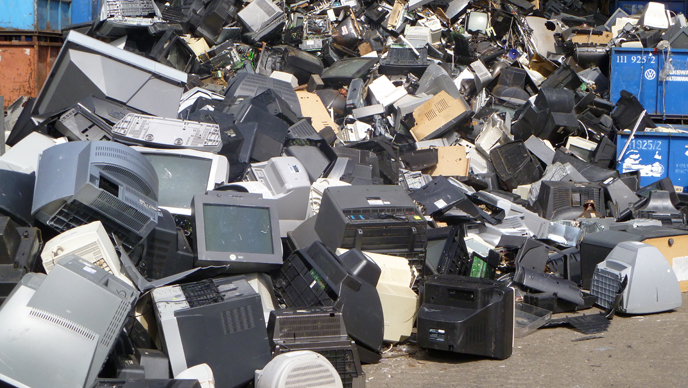 ---
E-WASTE RECYCLING (TVs & COMPUTERS)
The National Television and Computer Recycling Scheme provides householders and small business with access to industry-funded TV and computer recycling. It is not designed to receive commercial quantities of electronic waste. A maximum of 15 items will be accepted. Schools and larger businesses will need to make their own private arrangements.
Find out your nearest drop-off location
To date, more than 1,800 collection services have been made available across Australia to the public and more than 130,000 tonnes of TV and computer e-waste has been collected and recycled under the scheme. This has diverted hazardous materials away from landfill and enabled the reuse of valuable resources contained in e-waste.1
Reference:
1) National Waste Policy, Television and Computer Recycling Scheme:
(https://www.environment.gov.au/protection/national-waste-policy/television-and-computer-recycling-scheme/about)
---
Items accepted
Televisions
Computers
Laptops
Computer towers
Computer monitors
Keyboards
Mouse
Printers
Scanners
Other computer peripherals (ie. cords, batteries, etc.)
---
Other E-Waste
White goods (refrigerators, dryers & washing machines)
Mobile phone handsets & chargers
Entertainment equipment (computer game consoles, DVD or VCR players, stereo & hi-fi equipment, digital & video cameras)
Small appliances (vacuum cleaners, kettles, hair dryers & toasters)
Your e-waste recycling service will depend on your council. For specific information on what you can do with your e-waste items, click on your council link below:
---
What happens to the E-waste?
Once received at one of the registered drop-off locations, all material will be separated and sent for recycling as part of the National Recycling Scheme for Televisions and Computers.
All items are carefully pulled apart to recover the items of value which include small amounts of gold, copper and recyclable glass and plastic. Hazardous components are safely captured including lead, mercury, phosphorous, chromium and cadmium. The recyclable components are then sent to be made into new products.
(Please note Zero Waste SA is now Green Industries SA. Contact details and other links on the factsheets may no longer be current)
References:1) Zero Waste SA, E-Waste Recycling your questions answered: http://www.zerowaste.sa.gov.au/e-waste/e-waste-recycling-your-questions-answered