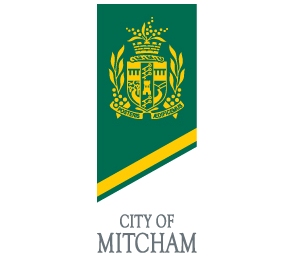 East Waste provide City of Mitcham residents with a:
General waste is collected weekly by the City of Mitcham. East Waste collect alternate fortnightly pick-ups are scheduled for recycling and green organics. Check your collection calendar and map for bin collection days. The City of Mitcham also provides its residents with a kitchen caddy and compostable liners to collect food scraps and kitchen organics – this can be put into the green-lidded bin with your garden organics material.

---
Has your bin gone missing or been vandalised?

If your blue or yellow landfill bin or yellow recycling bin has been stolen we will replace them. You must get a lost property report number for a replacement bin. Once you have the report number, you'll need to fill in a damaged or stolen bin form or call City of Mitcham on 8372 8888.

Council is providing 10,000 free green organic bins to properties in April and May 2023.
Do you require a new bin service?

If you require a new bin service. Please contact Council on 8372 8888.
Do you require an additional bin service?

If you require an additional waste or recycling bin, these are available subject to approval and an annual service fee. Please contact Council on 8372 8888.
Hazardous waste

Click here for more information on disposing of hazardous materials safely.
Electronic waste recycling

Click here to locate your nearest drop-off location for electronic items i.e. anything with a battery or cord. Most electronic items are banned from landfill and should be recycled.
Green Food & Garden Organics/FOGO bin

To use the green organics kerbside service, City of Mitcham residents need to provide their own 240L green lid bin. These are available from the following suppliers:
Kitchen Caddy for food scraps

By using a kitchen caddy system you can easily divert food scraps and other compostable items. Kitchen Caddies and compostable bags are available from the City of Mitcham Civic Centre, 131 Belair Road, Torrens Park, at a discounted price (inc. GST). All food scraps, tissues and paper towel can be placed in the kitchen caddy before placing tying the bag and placing it into your green lidded food and garden organics/FOGO bin.
---
We work with the City of Mitcham to help achieve their waste management goals – current waste management strategic plan and targets are outlined in Planning for Tomorrow's Community Today, the City of Mitcham's strategic plan. Some key waste management approaches and targets include:
Natural resources are conserved and waste is minimised either through avoidance, reuse, recycling or recovery.
Target 67: Zero waste – Reduce waste to landfill by 35% by 2020 (baseline: 2002-03).
The City of Mitcham and East Waste are also committed to meeting the goals and targets outlined within the State's overall waste strategy.
Find out more about East Waste's commitment to the environment and our waste management and recycling processes.