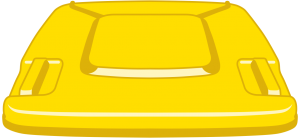 What CAN go in the Yellow Lidded Recycling Bin?

Paper & Cardboard

| | |
| --- | --- |
| | Newspapers |
| | Magazines |
| | Egg cartons |
| | Cardboard boxes |
| | Envelopes |
| | Milk & juice cartons |

Metals

| | |
| --- | --- |
| | Tin, aluminium & steel cans |
| | Aerosol cans (empty) |
| | Metal lids |
| | Aluminium foil tray & foil wrappers |
| | |

Rigid Plastic

| | |
| --- | --- |
| | Drink bottles |
| | Ice cream & yoghurt containers |
| | Margarine containers |
| | Milk & juice bottles |
| | Takeaway food containers |
| | Laundry & bathroom containers |

Glass

| | |
| --- | --- |
| | Bottles & jars |

Click here to order a kerbside bin sticker for your recycle bin

Click here to download the Why waste it? When you can recycle it. information flyer.

Options for recycling large quantities of cardboard

If you have very large cardboard boxes, here are three recycling options:

1. Cut them into smaller pieces, then stack them into a smaller box to recycle via the yellow-lid bin, or

2. Take the intact boxes to a Resource Recovery Centre at Edinburgh North or Pooraka where they will be accepted for free.

3. Very large quantities of cardboard can be taken to a cardboard recycling facility such as Opal ANZ Recycling at Dry Creek (Lot 1/412-440 Hanson Road Dry Creek)

4. If the cardboard is free of any plastic packing tape, stickers or plastic bags then small amounts of cardboard may be placed in your green food and garden organics bin.
What CANNOT go in the Yellow Lidded Recycling Bin?

Plastic bags and other soft plastics. – Recycle through REDCycle bins at Coles and Woolworths supermarkets, see Recycling Tips.
Food scraps – compost through your compost bin or green organics bin.
Packaging contaminated with food. Clean and/or rinse it out first.
Tissues and paper towel – place in your green organics bin.
Clothing and fabrics – Recycle through options listed here
Polystyrene foam packaging, trays and cups – place in the general waste/waste to landfill bin
Note: to prevent bulky pieces of polystyrene packaging from becoming lodged and stuck inside the general waste/waste to landfill bin, blocking materials from being emptied, please ensure that the polystyrene is placed inside of a plastic bag and broken up into small pieces. Make sure the bag is tied at the top to prevent pieces from falling out and expel any air inside of the bag before sealing it.
Crockery, Pyrex or drinking glasses – place in the general waste/waste to landfill bin
Mirrors, oven-proof or window glass – place (wrapped and bagged) in the general waste/waste to landfill bin
Nappies – place in the general waste/waste to landfill bin
Light globes – Click here for Recycling options
Car parts – Recycle through a car dismantler or scrap metal business
Plush/Soft Toys – donate them to a charity store
Untreated Wood, Garden waste or organic material – place in the green organics bin.
CDs, DVDs, video or audio tapes – Recycle them through Unplug 'N' Drop collection points.
Chain, Rope, String or Fishing Line – place in the general waste/waste to landfill bin
Asbestos – is a hazardous waste

Options for recycling large amounts of polystyrene packaging foam

Please remember that your yellow recycle bin is a 🛑🚫 NO FOAM ZONE! ✋❗️

It can be recycled if it is clean ie. no sticky tape, labels, dirt etc. through the following drop off locations (charges may apply):

Electronics Recycling Australia, 301 Grand Junction Road Ottoway (drop off weekdays 8am-4pm only)
NAWMA's Resource Recovery Centre, gate 3 Bellchambers Road, Edinburgh North (drop off any day of the week)
Coolfoam, 25 Barfield Crescent, Edinburgh North (drop off weekdays 8am-3pm only)
Heathfield Resource Recovery Centre, 32 Scott Creek Road, Scott Creek (drop off 7 days per week 9am-4pm)
All Axis, 9 Maxwell Road Pooraka (drop off Monday – Friday 7am-5pm)

If dropping it of for recycling isn't an option for you, place it inside of a plastic bag, break it up into smaller pieces, then tie the bag before placing it in your landfill bin (red or blue lid).

Click here for the 'Top ten contaminants' we need to keep out of our recycling bins.
Recycling Tips

Empty and clean.
Please ensure that your recyclables do not contain food residue or liquids.
Empty, dry paint tins can go in the recycling bin.
If tins contain paint, dry and empty paint out or dispose of at the hazardous waste depot.
Plastic and metal lids can be recycled. Please place plastic lids into an empty plastic bottle (preferrably clear PET) until it is full. Then place in the recycling bin. Tip: cut slit opening in the side of the bottle to push lids through. Metal lids can be placed inside of a metal can. Once full, squeeze the top of the can together so the lids stay inside before placing it in the recycle bin.
Aluminium foil wrapping and trays can be recycled, scrunch foil wrapping it into a ball or put it in a can. Trays can go in loose. Please make sure excess food is cleaned off first.
Pizza boxes without food scraps can go in the recycling bin.
Food scraps can contaminate recyclables, so please ensure all food remnants are removed before recycling.
Does the triangular symbol with numbers on plastic containers mean it's recyclable? No. The triangle with a number from 1 to 7 is not a recycling symbol but rather a Plastic Identification Code. It advises what type of plastic the item is made from but not if it is recyclable. Hard plastics coded 1-7 can be recycled in the yellow lidded recycling bin except for polystyrene foam and plastic bags.
No Polystyrene/Foam! Polystyrene/foam packaging (including foam meat trays and cups) cannot be recycled or composted through your kerbside bins. Please place it in the general waste/waste to landfill bin.
No clothes please – or textiles/fabric in the recycling bin! Please take good quality clothing to a charity store. Old and worn out clothing can be used as rags or placed in the general waste/waste to landfill bin.
Kerbside bins are not the place to recycle or place your electronic waste!
No food, drinks or other liquids please. Food and drink don't go down well in the recycling bin.
Please keep garden materials out of the recycling bin.
No Plastic Bags! Please leave plastic bags out of your recycling and FOGO bin and do not place your recyclables in a plastic bag. Plastic bags cannot be recycled through your recycling bin as they cause problems with the machinery at the materials recovery facility (MRF).
Where can I recycle my soft plastic bags, wrapping and packaging? Drop them into the REDcycle bin at your nearest participating supermarket CLICK HERE to find out where.
What's the difference between compostable and biodegradable bags? CLICK HERE to find out.
What happens to recyclables after collection?

East Waste collects the recyclables from households and delivers them to NAWMA's Material Recovery Facility (MRF). The following steps explain how the material is sorted by both people and machines into its different streams:

| | |
| --- | --- |
| 1. | Once received, recyclables are pushed with a front end loader from the receival area onto a chain conveyor that transfers the recyclables from ground level to operating level where the sorting commences: |
| 2. | Pre-Sort Room – MRF sorters remove large waste items and sort large cardboard. Cardboard is separated onto conveyors to bypass the sorting equipment so that it works more efficiently. Large cardboard combines back with other cardboard products at the end of the process. Waste is transferred to large contained waste packers ready for transport to NAWMA's Uleybury Landfill site. |
| 3. | Trommel – rotates the recyclables and separates containers (glass bottles, steel cans, aluminium cans, rigid plastics) from paper. Containers then travel over Bounce Conveyors to separate residual paper from the containers stream to present a container rich stream to the MRF sorters. |
| 4. | Container Sorting Room – PET (RC1)(CDL & non-deposit), HDPE (RC2), mixed plastics (RC 3-5), glass bottles and jars (CDL & non CDL) are separated into different holding bunkers by the MRF sorters ready for a quality check. |
| 5. | Screening & Quality Check – the separated container products are screened, quality checked and bulked up ready for transport to end markets to be recycled back into products. |
| 6. | Steel cans are removed by an electro magnet, transferred to a steel baler and baled ready for transport to downstream processors to be made back into steel products. |
| 7. | Aluminium products are removed by an eddy current (drink cans, deodorant cans, aluminium trays and foil) and blown into cages ready for a secondary sort into beer cans, soft drink cans and other aluminium products. |
| 8. | Ballistic separators clean up the paper stream by separating any residual containers, glass fines, dirt, bottle tops and organics away from the paper stream which is then transferred to the Quality Sort Paper Room. |
| 9. | Quality Sort Paper Room – MRF staff remove any contamination left in the paper and cardboard stream so that it can be baled ready for transport and recycling back into paper and cardboard products. |

Currently around 80% of all recovered recycling streams are recycled in South Australia and interstate. NAMWA has made a committment to have 100% recycled within Autralia by 2020. This will mean that none of our recyclable recources will be sent overseas after 2020.

Watch the videos below of how your recyclable materials are processed at NAWMA, with tips on what you should and shouldn't place in your yellow lid recycle bin.
What happens to the sorted materials?

What happens to plastics?

Plastics are sorted into polymer types, then baled and sent to companies in South Australia and interstate where they are washed granulated and chipped. The plastic is then moulded into new plastic products including bollards, outdoor furniture and playground equipment.

What happens to paper and cardboard?

After being cleaned and sorted, the paper and cardboard resources are sent to both local and international markets (licenced operators only) to be made back into newspaper and packaging products.

What happens to glass?

Glass is separated into the different glass colours then sent on to be recycled into glass bottles, jars and other glass products in South Australia.

What happens with metals?

Metals are collected and separated, mostly by magnets, then baled and sent to SIMS metal recycling facility, situated here in South Australia, to be remanufactured into new metal products.
Why is recycling important?

Recycling is great for our environment, economy and society!
Environmental benefits

Each time we recycle, we reduce the demand on our natural resources, such as trees, fossil fuels and raw materials mined from the earth. Recycling also reduces the amount of waste we send to landfill and pollution we discard into our environment.

Another benefit is the significant water and energy savings. For example, recycling aluminium saves 95% of the energy required to produce it from raw materials.

This figure is 70% for plastics, 40% for paper5and 30% for glass6.

Paper can be recycled many times, but if it's sent to landfill, it breaks down to produce greenhouse gases instead. By recycling paper we help to reduce two of the contributing factors to global warming being deforestation and greenhouse gas production.
Economic and social benefits

Recycling contributes to our economy by conserving resources, reducing energy use and production costs as well as creating jobs. Recyclables are valuable and can be sold.

For every 10,000 tonnes of materials recycled there are 9.2 full time jobs created compared to 2.8 jobs when sent to landfill.

Recycling is cheaper than sending materials to landfill. If we reduce the amount of material sent to landfill then councils can pass on these savings to residents and invest in other community services.

Recycling materials through the yellow bin saves 60% of the cost of sending materials to landfill.

Recycling plays an important role in reducing our reliance on sourcing not only our own natural resources but also those from other countries. eg. Oil which is required for making plastic.

By investing time and effort into educating our children of the importance of recycling, they are more likely to adopt these habits and continue them in the future.

Recycling makes you happy! A study across 27 countries found that people who recycle have higher life satisfaction levels and are overall happier people.
More information on Recycling:
---
---