East Waste is administered by a Board in accordance with the requirements of the Local Government Act, the Charter, and other various policies. The membership of the Board comprises of seven directors – one director appointed by each of the Member Councils, and one independent person who acts as Chair. The Board appoints a General Manager who is responsible for implementing the decisions made by the Board, and running the day-to-day operations of East Waste.
Board Members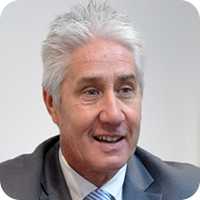 Brian Cunningham
Independent Chair

Brian has extensive experience leading state and national organisations in many different sectors including manufacturing and business sustainability; science, technology and innovation; sports management; and small business and regional development. He has a diverse directorship portfolio and leads Brian Cunningham and Associates, a business strategy and leadership consulting company. Brian's leadership and business management skills help ensure East Waste operates efficiently, professionally and sustainably at all times.
Board Documents
View Archived Board Documents.
Scheduled Audit & Risk Committee meetings 2019
Tuesday, 17 September 2019 at 8.30am
Tuesday, 19 November 2019 at 8.30am
Scheduled Board Meetings 2019
Hosted at City of Norwood, Payneham & St Peters Council Chambers, Mayors Parlour.
Thursday, 26 September 2019 @ 5:30pm
Thursday, 28 November 2019 @ 5.30pm