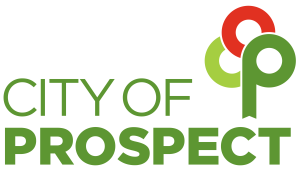 East Waste provide City of Prospect residents with a:
General waste is collected weekly with recycling and green organics collected fortnightly (on alternate fortnights). Check your collection calendar and map for collection dates.

East Waste also manages the delivery of new bins for new properties, additional bin requests and bin repair and replacement for the City of Prospect – contact us to organise this service for you. You can also contact us to take away any unwanted or excess bins as well as to report uncollected bins or enquire about collection areas and collection days.
---
Kerbside Collection Map

(Click on map below or Click here to view larger image)
Does your bin need repairing?

Click here to fill in the online request form or call East Waste on 8347 5111.
Has your bin gone missing or been stolen?
Do you require a new bin service?
Do you require an additional bin service?

Click here to fill in the online request form.
Click here to transfer or cancel an additional bin service.

Residents can lease additional yellow lid bins and green lid bins from Council. Fees apply for the provision of additional yellow and green bins, as well as recurring fees for service collection.
Hazardous waste

Click here for more information on disposing of hazardous materials safely.
Electronic waste recycling

Click here to locate your nearest drop-off location for electronic items i.e. anything with a battery or cord. Most electronic items are banned from landfill and should be recycled.
Kitchen organics baskets & compostable bags

Prospect Council supplies every resident with a Kitchen Organics Basket and 150 compostable (corn starch) bags to help assist with the collection of food scraps for disposal into the organics (green lidded) bin. This material will be processed into compost rather than sending it to landfill. Council will provide each household with a supply of 150 compostable bags. If you run out of bags before the next scheduled delivery, additional rolls can be collected from Customer Service at Payinthi (128 Prospect Road) subject to available stocks. Certified compostable bags can also be purchased at local supermarkets or you could line your basket with newspaper.
Weekly FOGO Trial

Click here for information about the Weekly FOGO trial.
---
City of Prospect has a strategic approach to waste management, with a focus on reducing the amount of waste that goes to landfill.
The use of Council's three bin (plus kitchen organics) system is complemented by a range of other services to ensure that waste can be appropriately managed. Together, these services reduce the environmental impact of waste disposal by appropriately sorting waste into different streams. While Council provides waste services and education on effective waste management, the community plays a vital role in reducing the amount of waste to landfill. Audits of bins in 2022 revealed that 38.8% of material in the red waste bins was food and compostable material that could have been placed into the green organics bin for composting. 8.7% of this was packaged food in plastic bags or containers that should have been emptied into the green bin. Only 16% of all food organics were disposed of correctly in the green bin. Food waste presents the biggest opportunity to reduce waste, with $239,000 potential cost savings per year, if all food and compostable materials were placed in the green bin rather than the landfill bin. Residents can help by using their kitchen caddy and compostable bags (free from Council) to collect and dispose of food and compostable material into their green bin.
Council produces a Waste Calendar that identifies when each bin is scheduled for collection and what types of waste go into which bin. Check out the Which Bin website for information on what goes in each bin.
To find out more about the City of Prospect, please visit prospect.sa.gov.au
Find out more about East Waste's commitment to the environment and our waste management and recycling processes.