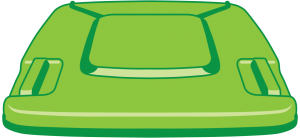 What CAN be composted in the green lidded food and garden organics (FOGO) bin?

| | |
| --- | --- |
| | Food scraps (including dairy, meat, bones, fish, fruit and vegetable scraps) |
| | Lawn clippings |
| | Small cuttings, prunings and branches |
| | Weeds |
| | Cut flowers |
| | Sawdust |

| | |
| --- | --- |
| | Tissues & paper towel |
| | Hair |
| | Egg & oyster shells |
| | Coffee grounds |
| | Tea leaves & tea bags |
| | Pet waste (please place in a compostable bag or newspaper) |
What CANNOT be composted in the Green food and garden organics (FOGO) bin?

If it didn't grow, it doesn't go- that's the rule for the food and garden organics bin.
Composting (FOGO) Tips

| | |
| --- | --- |
| | Very greasy Pizza boxes with food scraps can go in the green lidded food and garden organics/FOGO bin. |
| | Shredded paper, tissues and paper towels can go in the green lidded food and garden organics/FOGO bin with your other organic material. |
| | All food is good to go in the green lidded FOGO bin. |
| | Pet waste can be composted in your green lidded FOGO bin. |
| | Please keep plastic pots and trays out of the green lidded FOGO bin. Empty plastic plant pots and seedling trays can be placed in the yellow lidded recycling bin. Make sure they are free of soil first. |
| | No Garden hoses, irrigation pipe or garden tools. |
| | No batteries or hazardous chemicals please in your recycling or FOGO bin. |
| | No Nappies! Please place all disposable nappies in the general waste/waste to landfill bin, even those claiming to be compostable or biodegradable. At present there isn't any brand of nappy that is certified compostable as they still have plastic components that do not break down. |
| | Bricks, building materials and wire are other items we don't desire, in the recycling or FOGO bin! |
Kitchen Caddy
Why is composting food and garden organics important?

Almost half. Yes, about 48% of our waste could be made into compost and mulch1. Composting green organics is great for our environment. Most of the greenhouse gas emissions from landfill come from decomposing organic material which could be recycled through the green bin. Not only do green organics produce methane as they decompose, but their nutrients remain locked in landfill and can't be used again to grow plants and food. Compost can be used in gardens as a soil conditioner and slow release fertiliser.Compost can be used to fertilise gardens, farms and sporting fields and the mulch can be used to protect against weeds, reduce plant stress and save water in gardens, parks, orchards and vineyards. Find out more about using compost and mulch.

Composting and mulching food and garden organics is also cheaper than sending them to landfill. If we reduce the amount of material sent to landfill then councils can pass on these savings to residents and invest in other community services.
What happens to green organics after collection?
More information on green organics recycling:
---
References: