Single use, disposable coffee cups are NOT recyclable through the yellow lid recycle bin!
Why? They are lined with plastic and/or wax which is very difficult to separate from the paper. They are also contaminated with coffee and milk residue.
Public place recycle bins are often a slurry of coffee residue which contaminates the whole bin, sending it to landfill! 🤢🤮
Which bin?
Most disposable coffee cups need to be placed in the waste to landfill bin (red/blue lid).
Some cups are labelled as recyclable but need to be placed in a recycle bin specifically for coffee cups where they will then be taken to a specialised coffee cup recycler. If you can't find one…then they are landfill (red or blue lid) item only! 😕
💚✅ If however the cup is labelled as compostable, eg. the BioPak cups with the green ring. 'green ring means green bin!'  Vegware, Greenmark, Packwise's Geowise and Detpak range are also compostable and are good to go in the green bin.
🧐 Be wary of the lid! Check for the seedling certification AS4736 logo and the letters PLA, to ensure the lids is compostable. Some lids, ie. those labelled with PS or PET are plastic and need to go in the landfill (red/blue lid) bin.
💚✅ If the cup AND lid are 100% compostable, then the whole lot can go in the green bin along with any left over coffee or other drink.
There's really no excuse for single use! ☕️
Avoid takeaway coffee cups!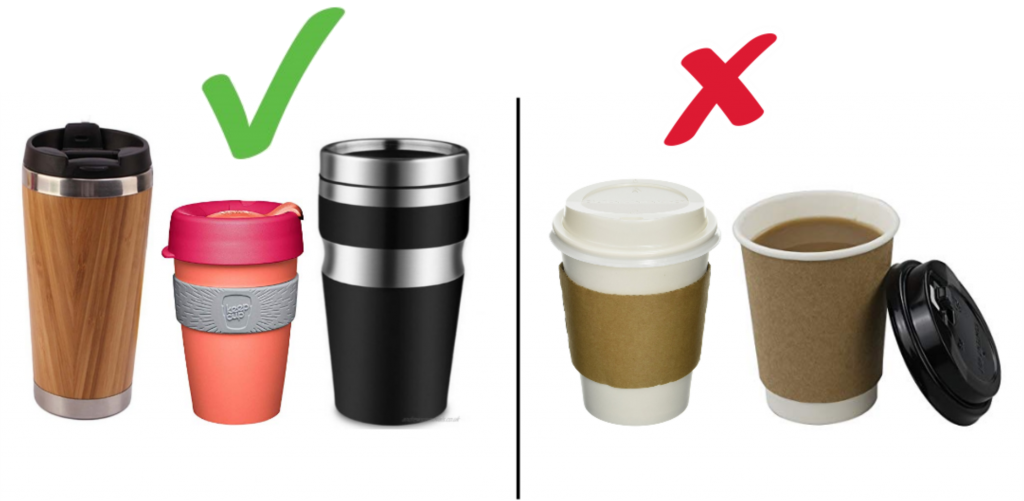 The best option is to choose to refuse single-use takeaway cups and choose reusable instead!
Reusable cups and containers for takeaway are still allowed in SA as usual.
It is up to each cafe to choose to accept reusables (now and any time). Whilst a cafe may choose not to accept reusables at the moment, they are not required by any law or regulation to stop accepting them. They're simply required to handle reusables in a hygienic manner, which is always the case anyway.
So avoid the waste by bringing along your own reusable alternative. There are many reusable coffee cups available on the market. Keep it in your bag or on your desk at work; wherever you'll remember to use it.
Many people choose socially and environmentally-friendly reusable cups made from ceramic, glass, plastic or stainless steel.
You don't even need to purchase a special cup. Simply use a mug or jar from home! Many cafes also offer a mug library where you can use and return reusable mugs.
The contactless pour method eliminates contact, risk and waste!
Find your nearest cafe accepting reusable cups here!
Find your nearest café that will welcome your reusable coffee cup at Plastic Free SA or Responsible Cafes.