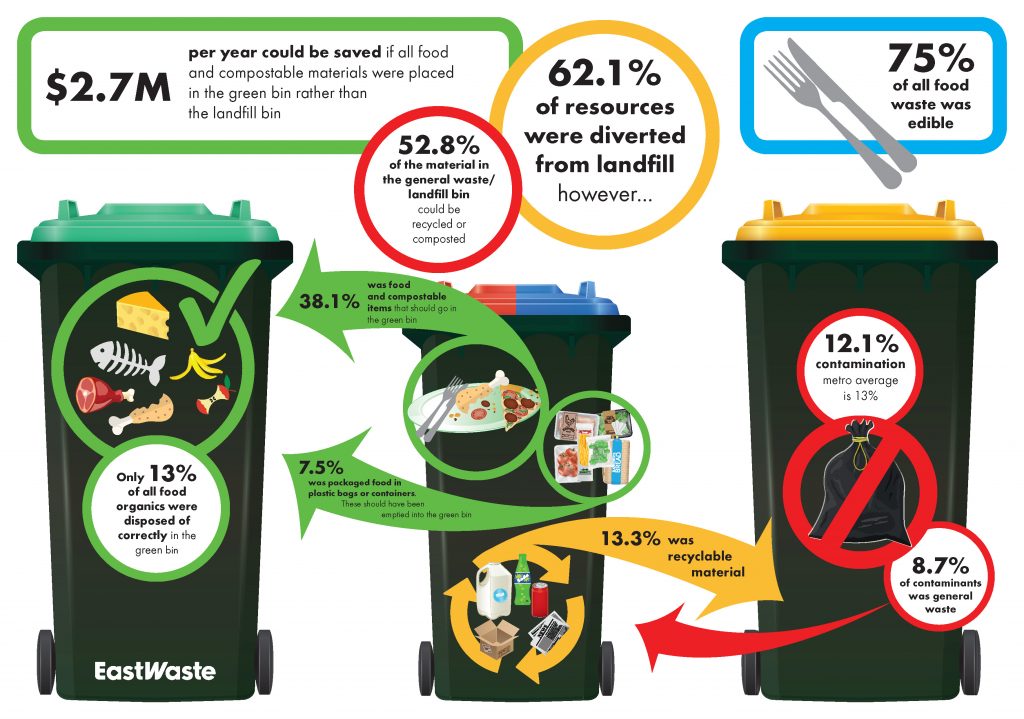 MEDIA RELEASE, 29 May 2020
New research reveals that more than half of all landfill waste in metropolitan Adelaide is unrecovered resources that could be recycled simply by using the correct recycling or green organics bin.
Much of it is food waste that goes to expensive landfill and harms the environment. Staggeringly, 75 percent of food waste still is edible when thrown out.
The East Waste 2019 Household Bin Audit completed and released to East Waste councils this week is the largest and most in-depth household bin study undertaken in South Australia. Researchers sifted and sorted 29 tonnes of material from 2100 bins to complete the audit.
East Waste Chair Fraser Bell said the audit provides an unprecedented insight into the disposal behaviours of South Australians. It will inform initiatives to influence household disposal habits for significant financial and environmental benefits.
"The findings tell us clearly that diverting food waste from landfill is our greatest opportunity to reduce costs to councils and the community while reducing greenhouse gas emissions," Mr Bell said.
"If all organics going to landfill were diverted into the green bin, it would save $2.7 million a year across the seven councils served by East Waste. Just 13 percent of all food organics is correctly binned; the lowest efficiency for any recyclable material." [See graph on following page]
The audit finds that more than 27 percent of the contents of a general waste bin for landfill is food waste that can and should be composted. Fruit and vegetables constitute about half of all food waste thrown out, 75 percent of which is edible.
"These findings are concerning and show that consumer education is needed in a range of food areas such as the difference between 'best-before' and 'use-by' dates and biodegradable versus compostable packaging," Mr Bell said.
"Food waste recycling in South Australia is low compared to some interstate councils. Yet, paradoxically, here in South Australia we have two of the nation's most effective private composting companies, including Wingfield's Jeffries Group that processes our material."
East Waste is collaborating with Fight Food Waste Cooperative Research Centre (CRC), the University of Adelaide, Green Industries SA and Rawtec on the WWW (What, Where and Why) of Household Food Waste Behaviour project.
Other findings indicate a strong case for improved glass recycling. The average East Waste household disposes of more than 20 kilograms of wine bottles a year, with quantities varying between individual council areas, from 7 percent in the Adelaide Hills to 18.3 percent in Walkerville.
East Waste is a subsidiary of the Adelaide Hills, Burnside, Campbelltown, Mitcham, Norwood, Payneham & St Peters and Prospect, Walkerville and councils.
Material Separation Efficiency
Material separation efficiency is the proportion of recyclable material for a given stream that is correctly presented and disposed of into the appropriate bin where it can be recovered or recycled. It provides an insight into how well residents separate recyclable materials. Food organics are at the lowest material efficiency at 13 per cent.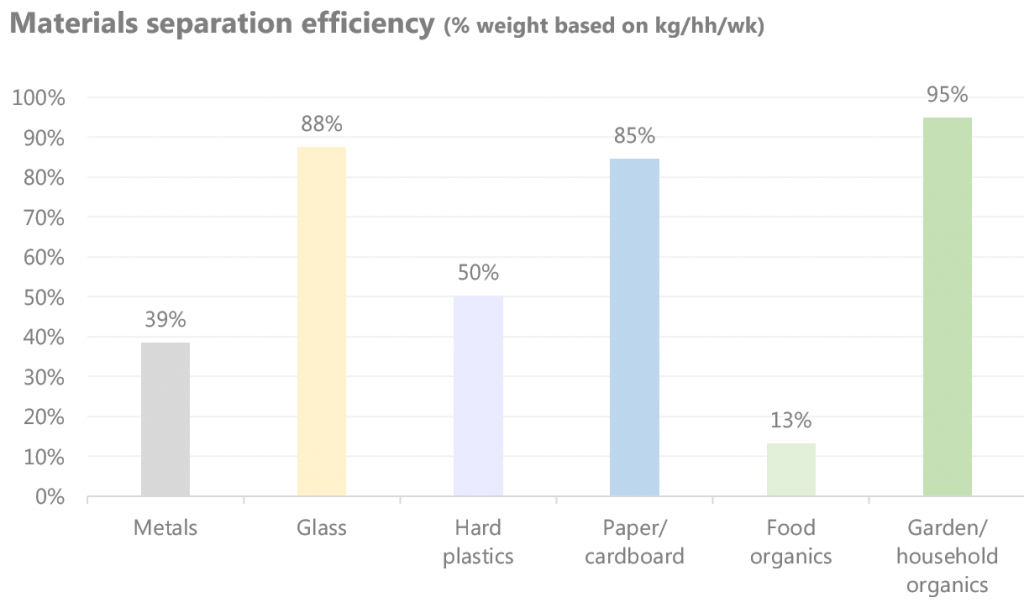 For a copy of the The East Waste 2019 Household Bin Audit please email Rob Gregory RobG@eastwaste.com