City of Norwood Payneham & St Peters

We provide City of Norwood Payneham and St Peters residents with a:
General waste is collected weekly and alternate fortnightly pick-ups are scheduled for recycling and green organics. Check your collection calendar and map for bin collection days. The City of Norwood Payneham and St Peters also provides its residents with a basket and compostable liners to collect kitchen waste – this can be put into the green-lidded bin with your green organics waste.
Kerbside Collection Map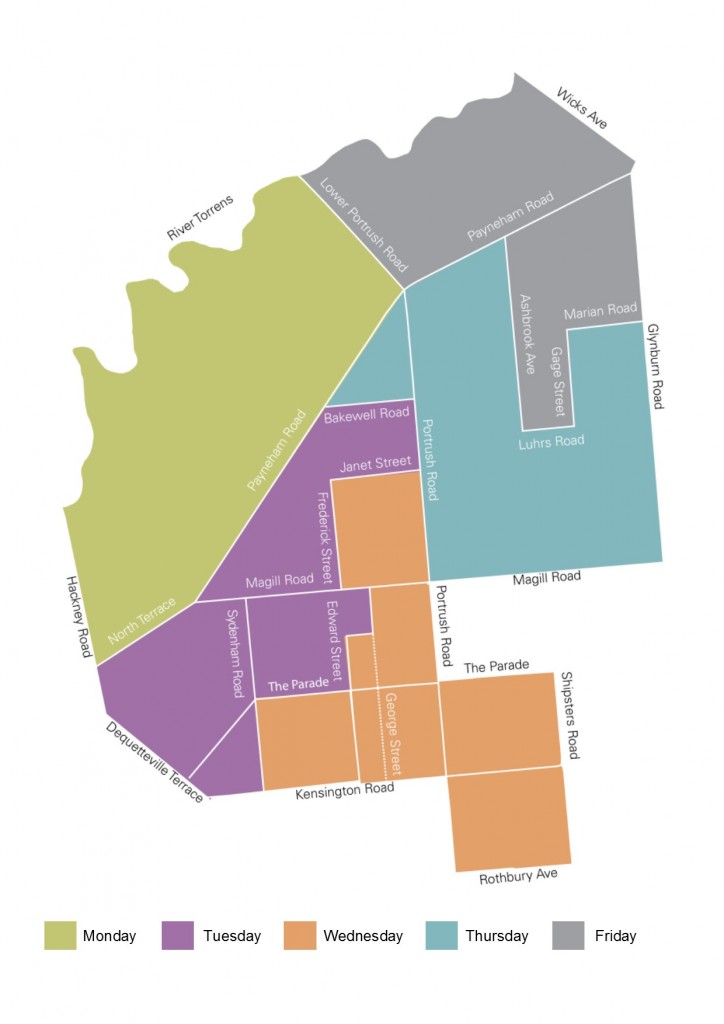 Missed bin day? Get in touch with us to arrange collection or report a problem. East Waste also manages bin repair for the City of Norwood Payneham and St Peters – contact us to organise this service for you.
East Waste and the City of Norwood, Payneham and St Peters are working together to reach the goals and targets outlined within the State's overall waste strategy as well as the City's specific goals in CityPlan 2030: Shaping Our Future.
Key commitments in the plan include:
promoting sustainable and efficient management of water, waste, energy and other resources
creating efficiencies – achieving more with less, using fewer resources and generating less waste
using less resources and produce minimal waste, which involves a target of 35% less community waste to landfill by 2020
identifying and implementing new waste reduction approaches for Council operations and the community
substantially reducing our City's ecological footprint.
Find out more about East Waste's commitment to the environment and our waste management and recycling processes.
Click Here for more information on waste disposal and recycling